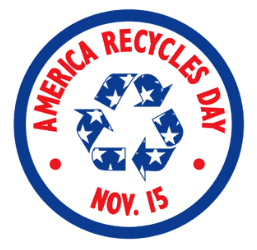 November 15th is National America Recycles Day. This day is dedicated to encouraging Americans to recycle and buy recycled products. The America Recycles movement was started in 1997 and since then has helped people everywhere learn the importance of recycling. In honor of today, here are some helpful tips to follow when going green and helping the environment.
Save energy to save money:
 – Install compact fluorescent light bulbs (CFLs) when your older incandescent bulbs burn out.
-Unplug appliances when you are not using them. Even if they are plugged in and not in use, energy is still being drawn to them.
Save water to save money:
-Take shorter showers to reduce water use. This will also lower your water and heating bills.
-Wash clothes in cold water whenever possible. 85% of the energy used to machine-wash clothes goes to heating your water.
Less Gas = more money:
-If you are traveling a short distance, consider walking or riding your bike instead of driving. Not only will this help the environment but it is better for your health also.
Recycle all plastic/glass bottles and papers:
-It may be a pain but be sure to recycle all of your used bottles and newspapers. Set up a separate recycle can outside by your garbage pails to help make sorting your trash easier.
Help make the earth a better place to live in today! Don't forget to reduce, reuse and recycle.