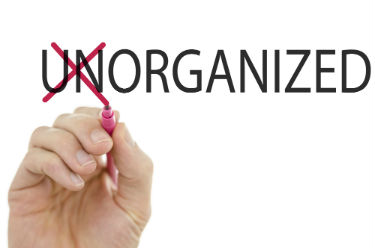 by: chedwards
in: Blog
Tags: AmandaHaase, Blog, chedwards, CHEdwardsInsurance, Farmingdale, Helpful, Insurance, Life, LongIsland, longislandinsurance, Nassau, NewYork, Organized, StevenVisco, Suffolk, Tips
note: no comments
The start of a New Year means a start to a new you. If you are striving for a successful New Year along with personal growth, follow these simple and easy tips to help you get organized.
Clean and organize your desk: Go through file cabinets and throw out any torn files and replace them with new ones. Color coordinate your files with different colored folders. (Ex. green for financial papers, purple for clients, red for bills, etc.)
Be like Santa every day of the week: Make your list and check it twice. One of the keys to organization is a to-do list. Make a list every night of all the things you need to accomplish the next day. Do this every night, including the weekends. There is nothing more satisfying than checking off items on your list and revealing what you have accomplished.
Use only one calendar: Avoid using multiple calendars. This will only cause you to forget appointments and important dates. If you're maintaining more than one person's schedule, like your children's, or spouse, use different colored inks to record information for each family member.
Get rid of any office supplies you haven't used in the past year: It can be hard, but getting rid of clutter and "dust collectors" on your desk will help you not only feel better but it will make your desk look neat. If you are in need of new supplies, donate the old ones and bring in the new ones. Keeping old supplies will only take up valuable space in your work area.
Update your rolodex or address book: Take the time to go through your contact information. Clear out all the cards or names of people you never called last year. Most importantly, make sure that all numbers and emails you have listed are correct.
Get the New Year started off right, and start thinking "out with the old and in with the new".
This goes for your insurance as well. Maybe you have some concerns about your rates or the way your business is being handled? At C.H. Edwards, Inc., our management and staff take pride in the services we offer our clients. We offer you the best rates and coverage available along with our quality customer service.
So, put shopping for your insurance with C.H. Edwards, Inc., on your to do list. Give us a call at (516) 249-5200 or visit our website at www.chedwards.net.
Written by: Amanda Haase